Deepika Padukone's latest photoshoot has got her fans a little too worried. In fact, such extreme is the reaction that even we were a little taken aback on reading some of these comments. The actress is being skinny shamed on Instagram. Many of her followers are upset with the actress' lean looks. Some of the comments are genuine concerns of fans, others a hilarious and some utterly insensitive. There were some who felt that the actress is starving, others who quipped that she is still not over the split with her ex-boyfriend Ranbir Kapoor.
Deepika shot for a jewellery edition of Vanity Fair recently and most of the clicks from this photoshoot were impressive. However, this new pic of Deepika in which her look comprises of a black slip on dress, diamond jewellery and smokey eyes has not gone down too well with her social media followers. The Padmavati actress' sullen mood doesn't add much to this pic, but netizens can go a little overboard sometimes you see. Here take a look at what most people on Insta had to say about this picture that the actress posted on her Instagram page…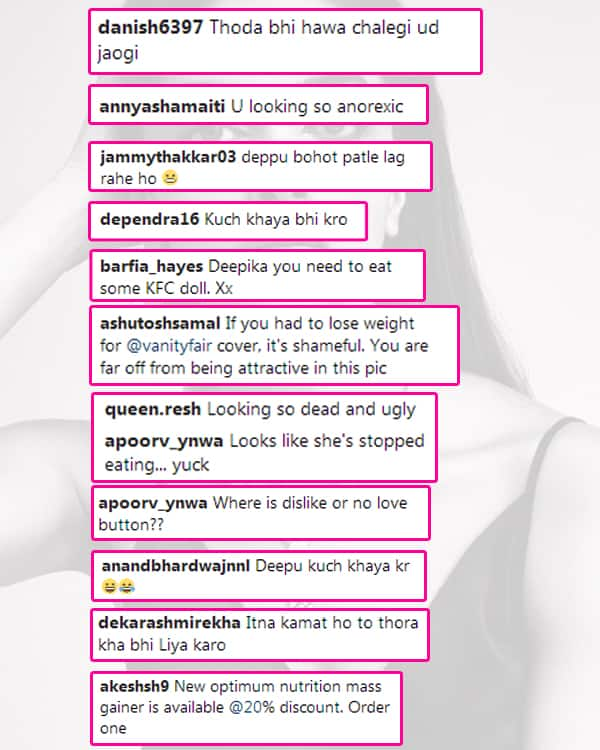 However, there were some others who stood by the actress and felt that Deepika looked gorgeous as ever.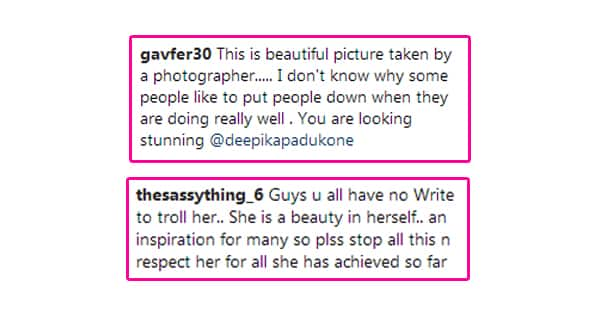 Well this is not the first time Deepika has faced the wrath of trolls and she is not the only one. Sometime ago she faced wrath of online bug who poked fun at another photoshoot of hers, where she sported white bikini shorts that was called diapers by some. Trolls had fun at her expense. But looks like people have become intolerant of any and everything, body type, opinions, choice of clothes. In fact, recently even Priyanka Chopra was criticised for her fashion choice when she posted a picture of her chance encounter with PM Narendra Modi in Berlin. Humour this, while Priyanka was trolled for wearing a skirt, Soha Ali Khan was trolled for wearing a saree and Fatima Sana Shaikh was ridiculed for wearing a swimsuit during the month of Ramzan. No country for women, looks like.